What to wear to your photoshoot? This is one of the most common questions I get as a photographer. People don't know what to wear for their shoot. Ideas? And as much as I am not a stylist, after photographing so many people over the years, I can help you with what I think will:
1. make your pictures pop in a way that fits my style of shooting, which I hope is the main reason you hired me
2. accentuate your best features
3. work great for a timeless picture
So think about it. Do you know that outfit you wear that boosts your self-esteem? Yes, that is what I am talking about. You need to go into the shoot feeling comfortable and confident. But then, do wear your best look. Wear make up, do you hair, your nails, accessorize. You want to look back at the pictures and see the best you. You may not do those things every day. But, hey, this is a special day. We are trying to freeze time here, make memories, and hopefully have some pictures on the wall, albums, cards… Let's make it last.
This is what I have noticed these years…
Long gone are the days where the whole family did portrait sessions at the beach wearing the same outfit: jeans and a white shirt. I would say that is specially a no-no here in San Diego where the beaches don't have a lot of colors, so blue jeans and white will just blend in. You can still do blue, white AND a third color. I am big believe in the third color. Specially if it is a color that pops! You can use that one in accessories, a cardigan, a flower, a detail in your outfit. And not everybody wearing the same outfit. So, let's say you chose black+white+popcolorRED. You can play with the patterns and how the black and white will be: maybe mom can wear black dress and shoes and a red scarf, dad can wear black pants, shoes and white shirt (or black and white plaid), daughter can wear a white dress with a red cardigan and a red hair band.
Another scenario: you choose blue denim+navy blue+gold: mom can accessorize with a gold statement necklace-ring-ear ring. Or a gold cardigan.
Two colors will be fine as long as one is a basic color and the other a pop color.
Here are some good combinations I have seen in the past among my clients: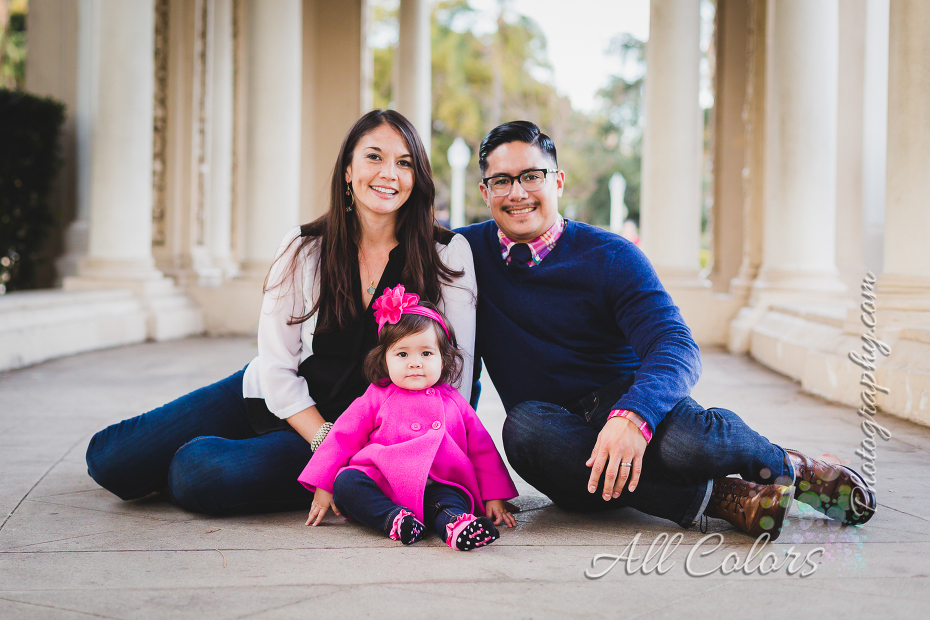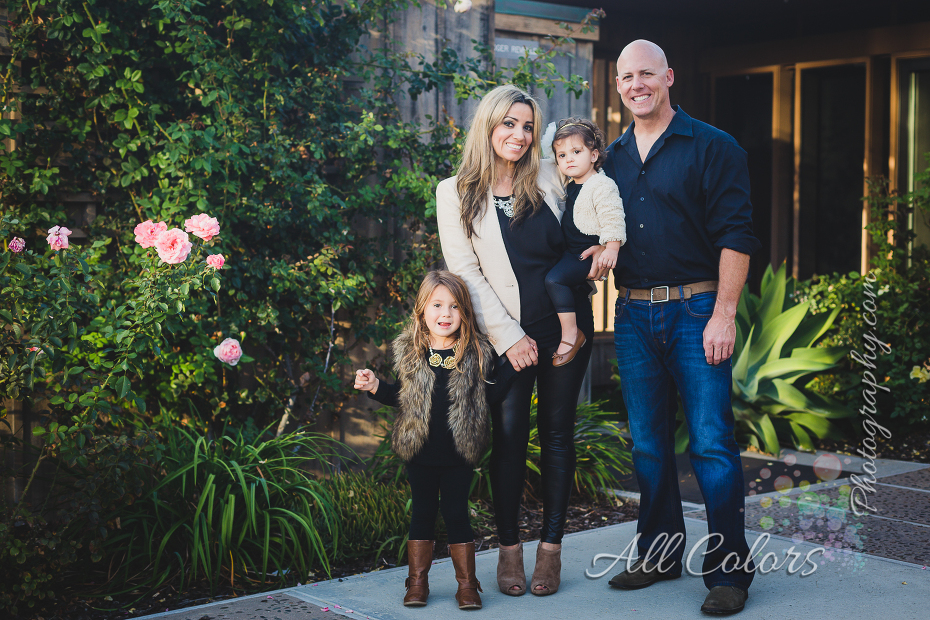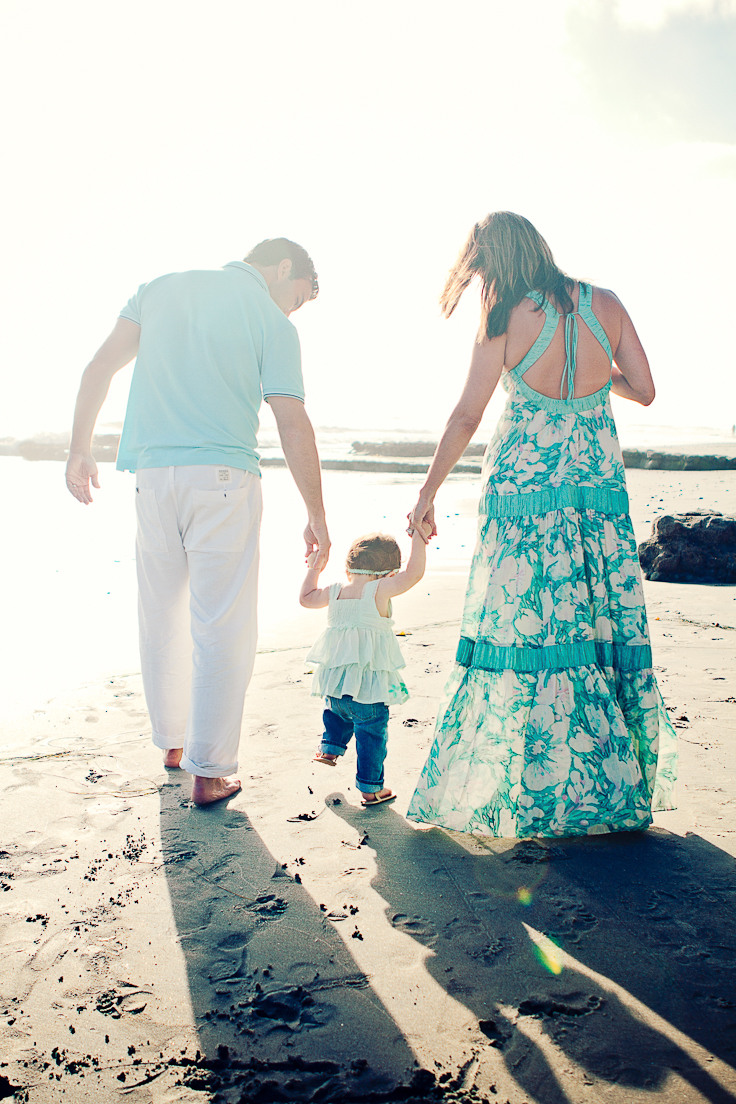 As an overall rule, I would avoid letters, brands, characters on shirts and such. You don't people's attention to go be drawn immediately to something they recognize. You want them to focus on you.
For expecting moms, I highly recommend a maxi dress. Regardless of the location, a maxi dress should always be one of the outfits. Other than that, I would say fitted outfits to show the belly, solid colors and dad/kids coordinating.
If our session is at the beach, barefoot is the way to go. Beach is casual.
No sunglasses: we want to see your expression, and your eyes are the best for that.
No Cheetos, red candy, chocolate… on the way to your shoot: avoid any food that will stain clothes, teeth/face and hands.
Avoid clothes that wrinkle a lot. I would even suggest that, if possible, you would change once you get to our location. Specially for kids as it takes them about 15 seconds to get dirty in the car. Speaking of kids, I would like to say something: this is a fun day. For them, for you, for me. This is what is going to make it special. So, I am ok with a little bribe, I would definitely do that to my own kids. But please, no yelling, spanking, threatening. I can't even imagine myself, as an adult, relaxing for a happy picture after being yelled at, spanked (!), or threatened! Just let me interact directly with the kids and maybe the could parents step back for a minute. We all know that our kids act so much better with other people than they do with us, parents.
Also, if I am doing a group picture, I would ask the parents to be picture ready and I will try to get the kids attention. I can't even tell you how many pictures I've taken where the kids are ready, smiling at me and the parents are stressing, talking to the kids or each other. Lost picture.
Now, veeeeerrrrryyyyyy important: the best thing you can wear is your smile. Smile BIG, laugh, show your teeth, LOL. But that is my advice for parents. For kids… things work a little different. Don't be obsessed about your child smiling at the camera. Sometimes they do, sometimes they don't. And it is FINE. Kids are authentic and spontaneous. And BEAUTIFUL! I have soooo many pictures of kids who are serious and GORGEOUS. Why would you want a fake smile? Let them be. Some smile all the time, some are shy, some are curious and are not interested in smiling that particular moment. It is ok. That is who they are and they are beautiful regardless. Here are some gorgeous kids who were pretty (and) serious.























Christianne Dowd is the photographer with All Colors Photography – San Diego Newborn, Maternity, Children and Family Photographer.