Celebrate Women's History Month with San Diego's Women in Photography Our Visual Voice
February 9 through March 8, the Luxe Gallery at City College hosts a curated exhibit of 50 of San Diego's best photographers in Women in Photography: Our Visual Voice, a collaboration with San Diego City College's Photography Department, Nelson's Photographic Supplies and Miller's Professional Imaging. Women are often under-represented in some fields, and photography is no exception, but this exhibit features some beautiful work in a variety of styles by some of San Diego's most accomplished female photographers, presenting current trends in the industry.
The art in the exhibit runs the gamut from family portraiture to commercial work, fine art, and The exhibit kicks off on Friday, February 9, at 6:30pm to 8:30pm with a reception where attendees can meet the featured artists and discuss their work. The Luxe Gallery of Photography is located on the 5th floor of City College's V Building-Career Technology Center at 1081 16th Street.
The Luxe Gallery is open 10:00am – 8:30pm Monday – Thursday, and 10am – 3pm on Friday, or by appointment by contacting the gallery at (619)388-3281. Parking is available on the street or in the paid parking structure at 17th and C Street.
The 50 featured photographers are: Monica Royal, Christianne Keila Dowd, Natalie Chiles, Ashley DuChene, Zeena Gregg, Marie Monfort, Kinda Arzon, Rosanna Barr, Melissa McClure-Vint, Terri Rippee, Kristin Rachelle Brown, Leyna Butcher, Andrea Gruber Matthies, Terran Bayer, Holly Ireland, Daniela Larsen, Julia Badei, Jennifer Dery, Jell Denny, Suzanne Ofeldt, Tiffany Allen, Marisa McBride, Zeynep Dogu Cameron, Valeria Alkan, Laura Popejoy-Henry, Jen Acosta, Erika Thorne, Ariel Dolfo, Kristen LiVigni, Chris Wojdak, Kate Mills, Janet Bark, Annie Laurie Haynes, Chrystal Walker Cienfuegos, Catherine Hatfield, Andrea Reeves, Sophie Crew, Robin Harris, Amber Barley, Katrina Murphy, Laura Bravo Mertz, Janis Foley, Amy Gray, Shelby Leininger, Delshad Xenakis, Jamie Street, Tess Desharnais, Sarah Layne, Traci Wutke, and Jennifer Zarcone.
Monica Royal, Ashley DuChene, Natalie Chiles, Christianne Dowd, and others are available to appear with their artwork in your studio and on-site at the Luxe Gallery in advance of the opening.
For more information, please contact:
Monica Royal, Co-Curator
858-449-5424
monica@monicaroyalphotography.com
Natalie Chiles, Co-Curator
619-318-7891
natalie@nataliechiles.com
Ashley DuChene, Co-Curator
619-246-4212
ashley@ashleyduchene.com
Christianne Dowd, Co-Curator
619-985-5451
www.AllColorsPhotographyBlog.com
allcolorsphotographysd@gmail.com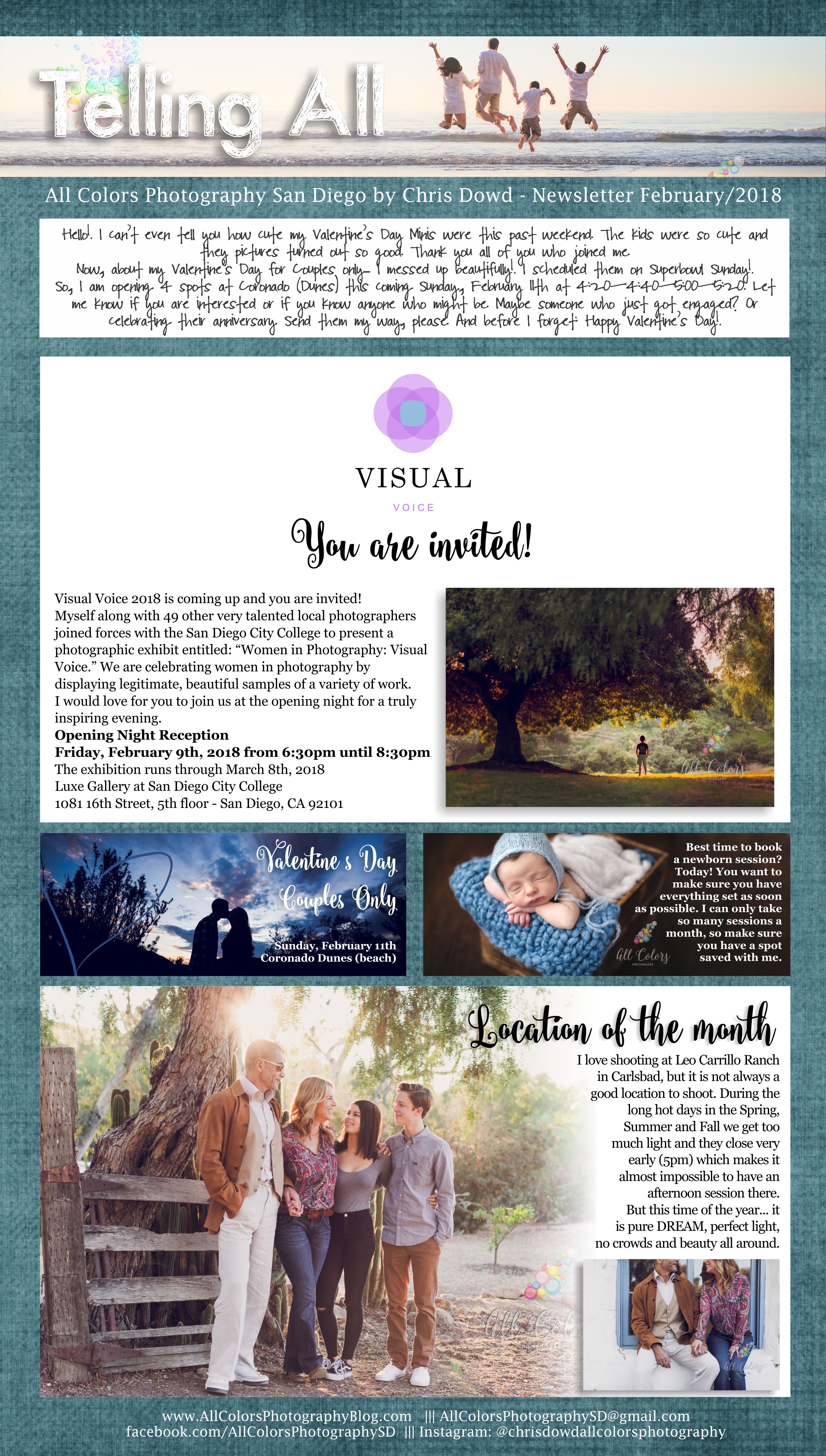 For more information on my Exhibition this Friday, click here.
To read more about my Valentine's Day Sessions for Couples this Sunday in Coronado, click here.
For questions and pricing on my Newborn Sessions, click here and send me a message.